You may have asked, what is Gotv Max? GOTV MAX is a bouquet on the GOtv African Satellite television a subsidiary of Mulitichoice Africa the owners of the DSTV Brand which delivers the widest variety of choice entertainment including the best selection of sport like the English Premier League, La liga etc. This Unique Bouquet was launch on the 1st of November 2017 with a 68 Channel list in Nigeria. But since then more channels have been added especially the ability to watch live premiership and other league matches.
What are the Channels on GOTV Max?
Here is a comprehensive list of Channels on the GOTV MAX Bouquet – Which can be classified into different genres such as
Documentaries
Lifestyle and Culture
Sport
Children
Music
Religion
Entertainment and Movies
Local Channels
GOTV MAX CHANNELS LIST IN NIGERIA AT A PRICE OF N3,200
CHILDREN
Nickelodeon
Disney Junior
JimJam
LIFESTYLE AND CULTURE
Spice TV
MUSIC
MTV Base
Hip TV
AFRO Music English
Sound City
Planet Radio TV
DOCUMENTARY
Discovery Family
Nat Geo Wild
SPORT
SuperSport Blitz
SuperSport Select 1
SuperSport Select 2
SupersSport Select 3
SuperSport Select 4
SuperSport Select 5
NEWS AND COMMERCE
EBS TV
BBC World News
CNN International
Al Jazeera
Arise News
TVC News
RSTV
OG TV
BCOS
RELIGION
Faith Broadcast Network
Islam Channel
Emmanuel TV
Dove TV
ENTERTAINMENT AND MOVIES
GO Channel
Telemundo
E! Entertainment Television
FOX
FOX Life
Sony Max
BET International
CBS Reality
M-Net Movies Zone
Eva +
AfricaMagic Epic Movies
AfricaMagic Family
AfricaMagic Hausa
AfricaMagic Yoruba
AfricaMagic Igbo
ROK 2
ROK 3
Televista
Trybe
star Life
Galaxy TV
B4U Movies
Zee World
Trybe tv
TVC Entertainment
LOCAL CHANNELS
ITV Benin
BISCON tv
Liberty TV
Tiwa n Tiwa
RAVE
R2TV
eTV Africa
NTA I
Silverbird
AIT
Channels
MiTV
Lagos TV
Wazobia Max
Arewa 24
WAP
TCV Internacional
ONMAX
in total you will get  72 Channels with GOtv Max when you activate your subscription in Nigeria
GOtv Max Price and Promo
You will Get 72 world-class channels for you and your whole family for a promo price of  NGN 3200.00 per month
You may be wonder when will the gotv promo be available or ending? just subscribe to this blog for alert on aFree One-month Gotv MAX Package for All Subscribers
How To Upgrade From GOtv Plus To GOtv Max
Are you a subscriber of GOtv Plus, GOtv Lite or GOtv Value and wish to upgrade to Gotv Max to enable  you watch your favorite Foreign Movies and sport channels? There is no need to worry because, following this couple steps you will be able to upgrade from your previous gotv bouquet to gotv max
UPGRADING TO GOTV MAX ONLINE
Step 1
on your PC or mobile phone
visit https://eazy.gotvafrica.com/en/ng/get-gotv/packages/details/gotv-max
Click on the Green Button with the title Got Gotv? Switch to Gotv Max as shown in the Picture Below


input your Surname or Mobile Number, followed by your IUC Number as shown in the diagram below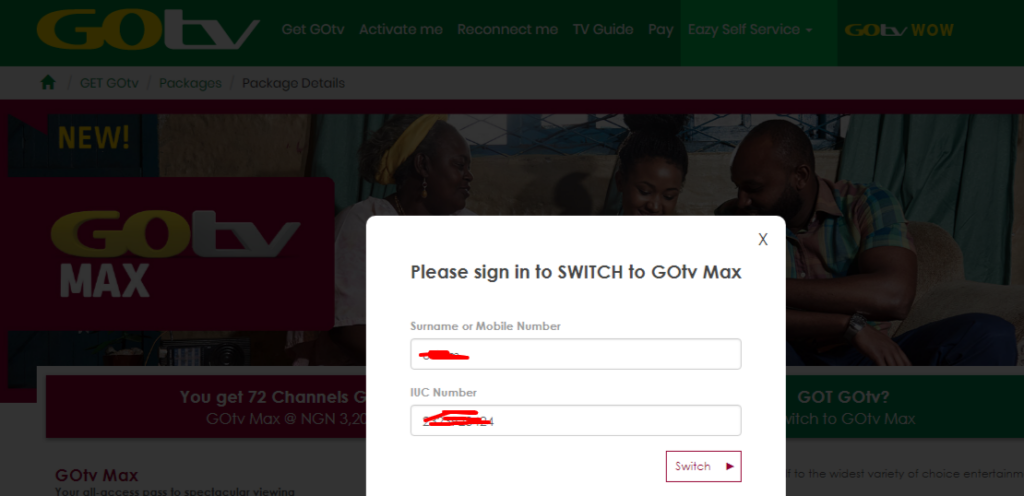 Click on Switch to choose the GOtv Payment method to finalize the Upgrading process to GOTV max
HOW TO DOWNGRADE FROM GOTV MAX PACKAGE
Log-on to eazy.gotvafrica.com
Click Login and enter your correct mobile number or surname and then input your IUC number.
After login, on the dashboard click on "Build a Package".
Select the package you want to downgrade to and select "Next".
Click the Pay button and choose your preferred GOtv Payment method
Enter all the necessary information to complete payment and your plan will be downgrade to the plan you selected.
TIPS: Make sure you have tuned your GOTV decoder to Africa Magic Channel before making payment to avoid delay of reactivation.
Alternatively, you can call their Customer care on 012703232 to help you downgrade your GOTV subscription
I hope this was helpful, let me have your feedback via comments.
Cheers!