Gotv has launched a new android app nicknamed "myGotvapp", its a way of making it easy for gotv subscribers to manage their account efficiently.
I had a first-hand review of the app and all I can say for now is that it is a welcome development and will ease the plight of subscribers.
With the mygotvapp
You can check your subscription status
Know the Gotv Package you subscribe to
Check Your IUC Number
The Account Holder's Name
Change your Subscription Package
Pay for Subscription

Set a reminder for your favorite series on GOtv

Access to GOTV TV GUIDE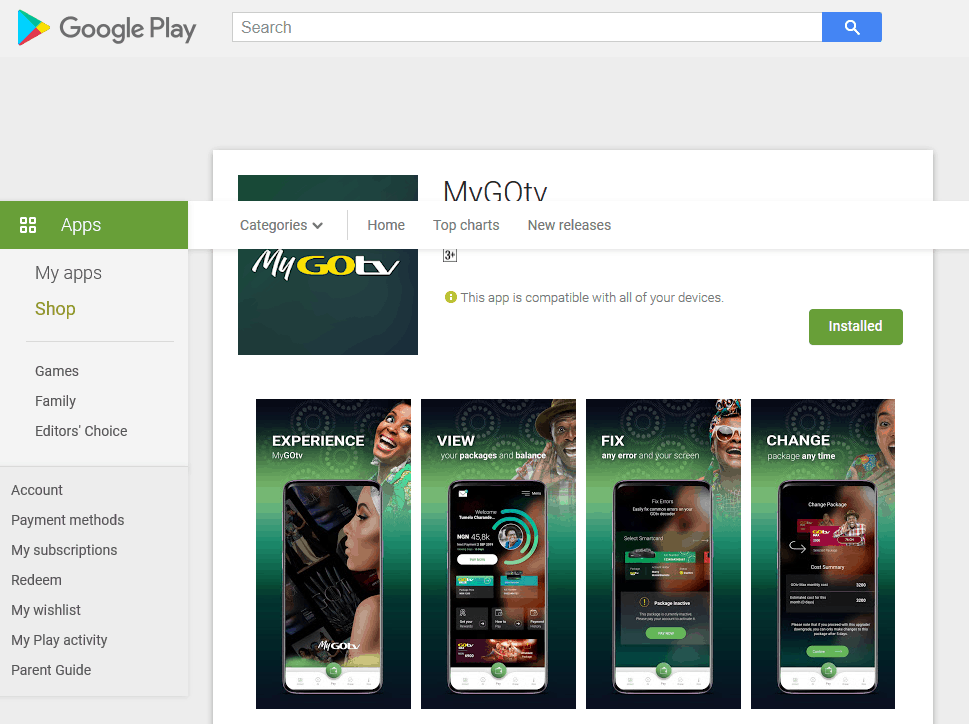 How To Download and Use GOtv Mobile App
Go to google play on your android phone and search for mygotvapp check this link
download and install
log in with your surname or phone number followed by your IUC number
and there you have it, all your GOTV subscription data for your perusal
if you cant download from google play store, the are other third party links to get the android app
You can download the gotvapp apk from this link https://apkpure.com/gotv/com.multichoice.gotvguide
Remember to "Allow Installation of apps from unknown sources" before installing.
To Download and Install GOtv Mobile App on your iPhone
Go to the apple store on your iPhone and search for gotvapp or click on the link below
https://apps.apple.com/app/mygotv/id1419652924
On the Gotv Official Website, we have this quote
"The MyGOtv app is an easy and convenient way to manage your GOtv subscription at your fingertips.
As a GOtv customer, you can now manage your viewing, locate an installer, clear error codes, see how much you owe, make a payment, change your package or update your details anywhere, anytime."
Now in details, here are some of the features that I really like
FIXING ERROR E16 and E30
Error Resolution: Sometimes you make payment and still have the dread E16 or E30 error on your screen, this app makes it easy to know first hand if you have an active subscription and a FIX IT button to help you clear this error if you have any active subscription
UPGRADING AND DOWNGRADING OF GOTV PACKAGE
The app makes it easy to know your current subscription package and makes it quite easy to switch packages either by upgrading and downgrading with just and click of a button with easy payment option in the case of an upgrade
EASY PAYMENT OPTION
The Gotv App is built with an active payment core with many payment platforms,i.e  MasterCard, Visa, Quickteller. You can never go wrong paying through the app